Best Nescafe Coffee in India For Delicious Coffee Break
All best Nescafe coffee in India every connoisseur should know. We round up excellent offerings of Nescafe including Classic, Gold, & ready to drink coffees.
Top Nescafe Coffees Every Connoisseur Loves
Are you also someone who can't imagine your day without a cup of coffee? If yes, this is surely going to interest you. India has a considerably large number of coffee connoisseurs. From a sophisticated lifestyle drink to a popular one, coffee has made its way into the sphere of everyday beverages. We take this opportunity to make you familiar with the top coffee brand of India. You would love to know the amazing variations and ready-to-sip coffee drinks.
Coffee is a beloved beverage for many. Thanks to the third-wave coffee culture, we have excellent flavored coffees. The brewing methods are more innovative and the roast profiles are great. A variety of coffee options like black coffee, latte, macchiato, cappuccino, and espresso is popular today. Coffee stands next to tea which is the most popular Indian beverage. This post tells you some of the best Nescafe coffee in India to make your coffee break more versatile.
Must-Try Coffees From World's Top Coffee Brand
From the time India started to drink coffee, Nescafe enjoys the top position. You must be aware of the popular coffees of the brand like Nescafe Sunrise and Nescafe Gold. But this list also comprises premixes and ready-to-drink coffees and lattes.
1. Nescafe Cappuccino
After Nescafe Original in India, many variants were launched and became popular. The world's top instant coffee brings excellent coffee premix in the form of Nescafe Cappuccino. These sticks offer you the simplest way to enjoy premium coffee at home. This box of 10 sticks will get you a fine frothy coffee in a few seconds.
2. Nescafe Gold Blend Rich & Smooth Instant Coffee
Well, which one you would choose if you have to choose your favorite out of all Nescafe coffees? They are available in several variations. We have mild coffee, iced coffee, black roast, and others. But the Nescafe Gold blend brings a well-rounded taste to real connoisseurs of coffee. No wonder many of us would go for the Gold. The best Nescafe gold coffee in India has many fans. The blend is carefully created for a distinct coffee experience for all coffee drinking occasions. It is rich and smooth instant coffee made out of the blend of Arabica and Robust coffee beans.
3. Nescafe Classic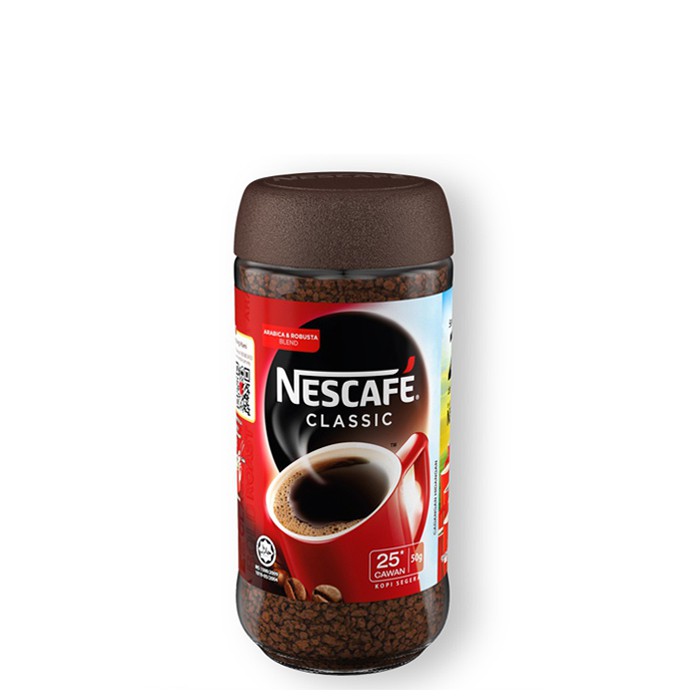 Here is perhaps what we love the most. This medium-dark roast can make a perfect sip to start your day. You can make a premium quality frothy coffee cup at home with this signature offering. It is easier to get Nescafe classic in India and you can have the most beautiful coffee break.
4. Nescafe Sunrise Premium Liquid Decoction
Do you love coffee but hate brewing it? Here is a super-easy way to make a cup of coffee. Get this ready to use decoction. Simply add one spoon decoction to hot water. Add milk and sugar and your coffee is ready!
Well, if we talk about all the coffee formats of this top brand, ready-to-drink formats are a must-try. Further, we have picked the best coffee cans you must try.
Shop Delicious Ready-To-Drink Coffee Cans For Quickest Coffee Anytime
The modern age calls for fast food and ready-to-drink canned beverages. Sometimes it is hard to find time to chill and prepare something to serve yourself. Perhaps that is why we have RTD or ready-to-drink iced coffees. They come pre-brewed packed in cans or bottles. Here are some of the best canned coffees from Nescafe to order online.
1. Nescafe Latte
Nescafe Latte is made in ready-to-sip format and packed in a can. It offers you a refreshing taste anytime you wish without any hassles. These coffee cans might not be available at your local retail stores. But you can surely find them as you browse online.
2. Nescafe Drink Mocha Can, Low Fat Milk Coffee Drinks
This is a delicious and low-cal ready coffee that you can simply sip from the can. Cold and sweet with a hint of chocolate flavor also uses natural sweetener stevia. No matter where you are, you can enjoy the premium taste of artisan coffee without visiting high-end cafes.
3. Nescafe Ready To Drink Original Chilled Coffee Can
Do not love flavored coffees? No worries. Your original Nescafe also comes in RTD format. Grab this chilled coffee can to enjoy the best coffee moments without any hassles of brewing and pouring. Nescafe Original Price in India for this 240 ml RTD can is around Rs. 120 to 150/- and you can get it delivered from online stores.
4. Nescafe Black Roast Coffee Drink
Here is the right RTD coffee can for the fans of dark and intense coffee. This simply refreshes you to the core with its intense and rich flavor and aroma. Of course, it is a low-cal and you can have it without any stress.
5. Nescafe Caramel Macchiato
Macchiato is an espresso coffee topped with little steamed milk or foamed milk. This RTD coffee can from Nescafe further elevate the coffee experience by bringing this Caramel Macchiato. A definite treat to your palates along with an instant refreshment!


6. Nescafe Kopi-O Nopitiam Can
Bring the feeling of enjoying versatile coffee mix home! Nescafe Kopi-O Nopitiam Can is irresistibly smooth and refreshing. Now you can enjoy your coffee on the go if you have these ready to sip cans in your hands. You will find this product in many online stores delivering imported beverages.
These ready coffee cans are best when you drink them chilled. But they are portable and you can carry them along anywhere to enjoy your coffee break anywhere. All you need to check is the expiry or validity of the drink. You can skip visiting coffee shops to grab your beloved cup of coffee.
Thanks to the innovations in the coffee world, we now have flavored coffees, lattes, RTD coffee drinks, and coffee mixes. With such amazing variations and the finest taste, Nescafe is truly a paradise for every coffee lover. You can also skip the hassles of brewing and getting a coffee machine. Simply stash a can of coffee in your bag and have it anywhere you want! Though there are many other popular brands like Bru, Blue Tokai, Davidoff, and Starbucks, Nescafe Classic coffee in India rules the hearts of coffee connoisseurs.